Flying in Ireland
By Colm Farrell
Last updated June 2012
Proud Supporters of

Ever considered flying into Ireland? Well then isn't it about time you came and visited us? I can't guarantee you fair weather, but you are sure to get a friendly welcome!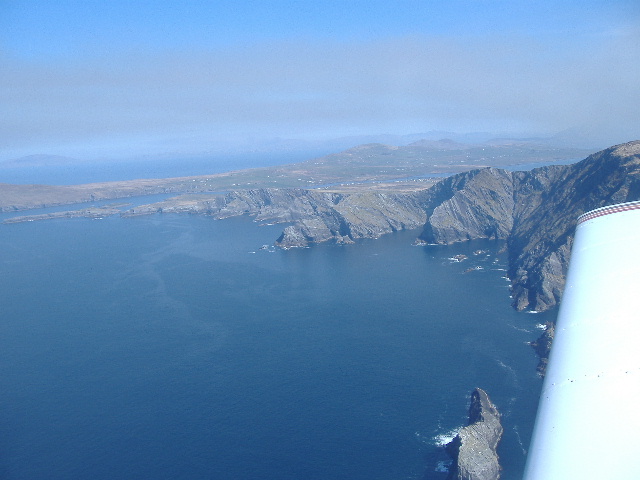 The scenery around the south west coast is both rugged and beautiful
Flying in Ireland is not that different to flying in the UK, but there are a few little differences that you should be aware of. After you have read this article you should be aware of the most important ones, and have a good idea of what to expect. For the most part, flying in Ireland will be very easy for anyone used to flying in the UK. Most of our country is covered in uncontrolled airspace, making life very easy for the VFR pilot.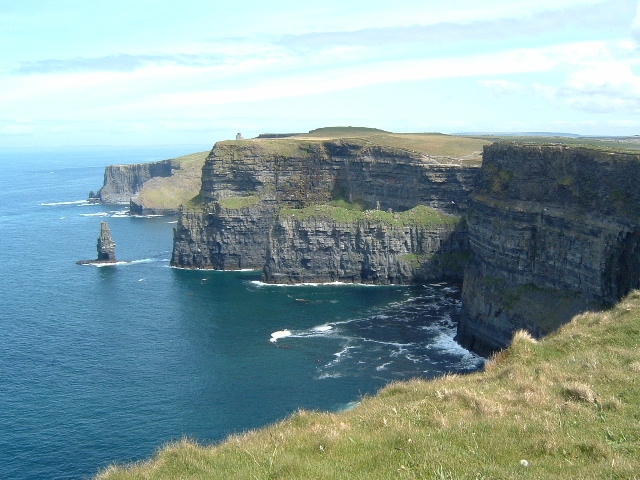 The Cliffs of Moher located on the west coast of Ireland, near the Arran Islands are breath taking.
They are a popular attraction with tourists
I suppose the first thing we should consider is entry requirements. For the purposes of this article, I am going to assume that you are coming from the UK, and at the end of your trip you are returning to the UK. First thing that you will need is a flight plan. For those that are not familiar with flight plans, do not get too concerned. They are actually very simple to complete. Completion of flight plans go beyond the scope of this article, however the CAA does publish a "Safety Sense Leaflet no 20 VFR Flight Plans " which should tell you all you need to know. Submit this before your take off, and "open" it with air traffic control after take off. If you are leaving from a controlled airfield, it will be automatically opened for you.
Blessington Lakes at the foot hills of the Wicklow Mountains. Wicklow is known as the Garden of Ireland and has some
beautiful scenery
Next thing that you need to know about are UK authority requirements, which can be sorted out with a General Aviation Report (GAR) form. A copy can be found by going to http://www.hmrc.gov.uk and entering "General Aviation Report" into the search box. You need to complete this form and send a copy to the Special Branch, covering the airport from which you will depart before landing in Ireland, and also the first airport that you will land in on return to the UK. You also need to send a copy to Customs & Excise. Special Branch require 12 hours notice for both your UK to Ireland flight, and your return flight. The Special Branch notification covers you for Immigration. Immigration do not require a separate form. Customs & Excise require no notice for your UK to Ireland flight, and 4 hours notice for your Ireland to UK flight.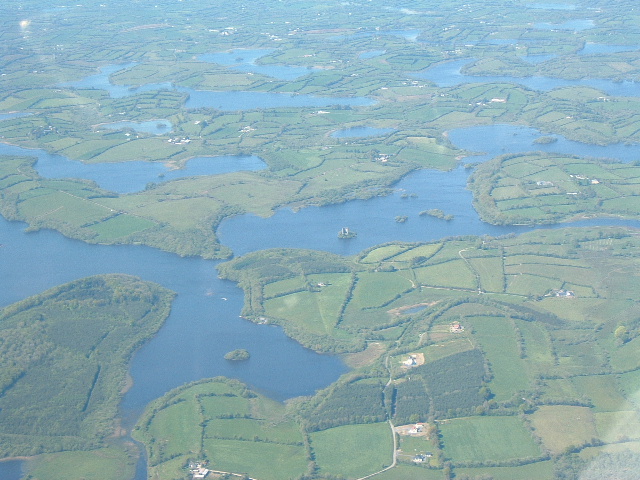 Cavan is well known for its many little lakes
Then you need to know about the Irish authority requirements. Unfortunately there is no standardised requirements here, and arrangements with customs vary from airport to airport. What you will need to do is to contact your intended airport of arrival in Ireland and also the one that you intend later leaving Ireland from, and ask about their arrangements. Often these can be found on their websites. Arrangements vary from no notice required a most of the regional airport, to 24 hours notice at some of the smaller airports. The good news here is that they generally are very flexible here. If you can't give the required notice then call the relevant airport and they can usually have some arrangements with customs to accept the shorter notice. If you are flying from outside the UK, will you need to land in an airport of entry (or clear customs & immigration in the UK on your way to Ireland.)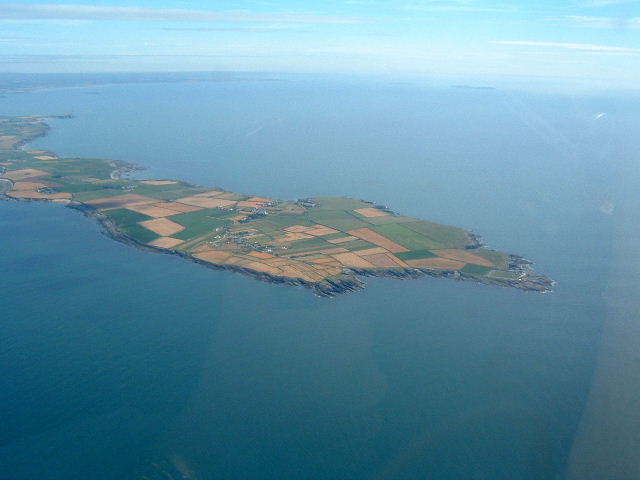 Hook Head of the south east coast was one of Cromwell's planed points for the invasion of Waterford City
Lets now look at some of the airspace within Ireland. Firstly we only have two different classes of airspace that you are likely to encounter; class G, and class C. Almost everything above FL75 is class C, all our regional airports are encased in class C airspace, and virtually everything else is class G. That leaves a lot of class G to play with! I suggest you pull out your books and look up class C airspace, because as a light aircraft pilot in the UK, you will probably not have come across this class of airspace. In practical terms it is not too different to how class D airspace is used in the UK. We also have a number of restricted areas (all bar one is around Baldonnel Military Aerodrome). A call to Baldonnel Approach or Dublin Control will confirm if they are active. Even if they are active, a clearance can usually be obtained to pass through. If they are not active, then you can pass through as if it were unrestricted.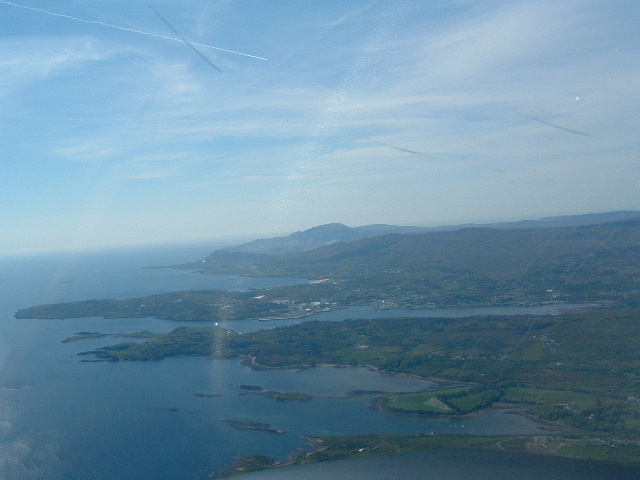 Fishing port of Killybegs Co Donegal. You can hire a fishing boat and captain from here, and have an enjoyable days
sea fishing
No specific clearance is required to operate within Military Operations Areas below 4,500ft, however information on their status can again be obtained from Baldonnel Approach. We also have a small number of danger and prohibited areas. We do not have any danger area crossing services.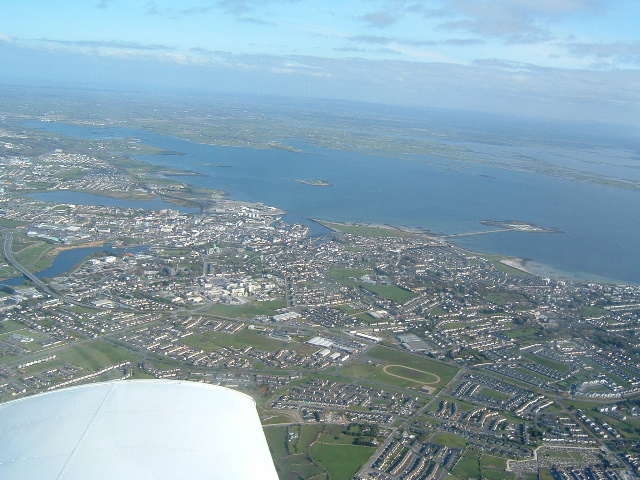 Galway City is always a popular place. It has a young vibrant atmosphere, and is always alive at the weekend
The Irish Aviation Authority produce a 500K scale chart which covers all of Ireland (though data in Northern Ireland should not be relied upon). You can order these directly from Ordnance Survey Ireland on +353-1-8025300, or from most of the UK pilot shops. PocketFMS maps are also fully maintained for Ireland and provide reliable and accurate information. A free 30 day trial is available on the PocketFMS website allowing you to navigate on your iPad/iPhone/Android/Windows Mobile/Windows device.
Inishieer is the smallest of the three main Aran Islands and has its own airstrip. It has a population of 300 people
Since 2006 the Dublin CTR was extended to include Weston, and the R15 area. This means that any flight through the capital will involve a lengthy CTR crossing. Don't be put off by this. Dublin ATC are well used to these necessary transits, and will happily accomodate you. Usual routings though the CTR are from KLY (NDB beacon at Killiney) following the M50 motorway to the River Liffey, or from the mouth of the River Liffey at Dublin Bay, following the river itself to Weston. If you intend to transit this area, then get a hold of the Dublin Visual Approach Chart from the AIP. It will make your life a lot easier. See later in this article for the link to the Irish AIP online.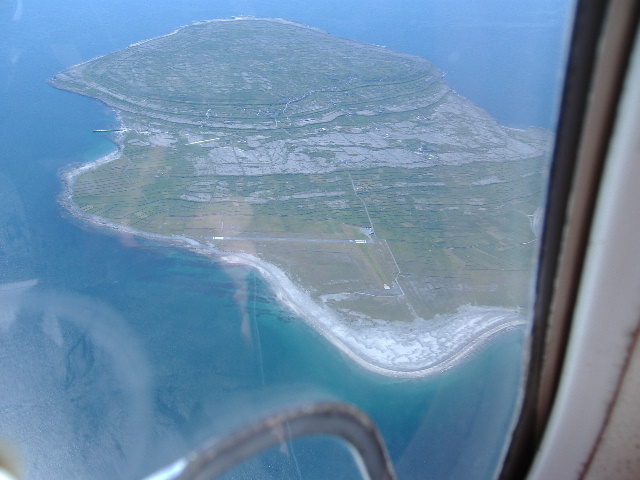 Inishmann is the middle of the three main Arran Islands, but gets the least tourist traffic
Minimum heights are something else which you will need to know about. They are slightly different to the UK. Firstly 500ft AGL is the absolute lowest height that you can fly (obviously other than when landing!). Over congested areas you must be a minimum of 1500ft AGL and 1000ft above the highest obstacle within 600 meters of the aircraft, and a sufficient height to make a safe landing in the event of an engine failure.
Kilkenny City is a beautiful medieval city, dominated by its castle. The castle and grounds are open to the public and
well worth a visit
Cruising levels are slightly different to the UK too. We use a semi-circular rule instead of quadrangles, when flying above 3,000ft AGL. If flying a magnetic track of 000-179 degrees under VFR, then you fly at an odd flight level plus 500ft. If flying a magnetic track of 180-359 degrees under VFR, then you fly at an even flight level plus 500ft. While these are compulsory, they are commonly disregarded, so don't get too hung up on it. Transition altitude around the regional airports is 5000ft. Outside controlled airspace it is 3000ft.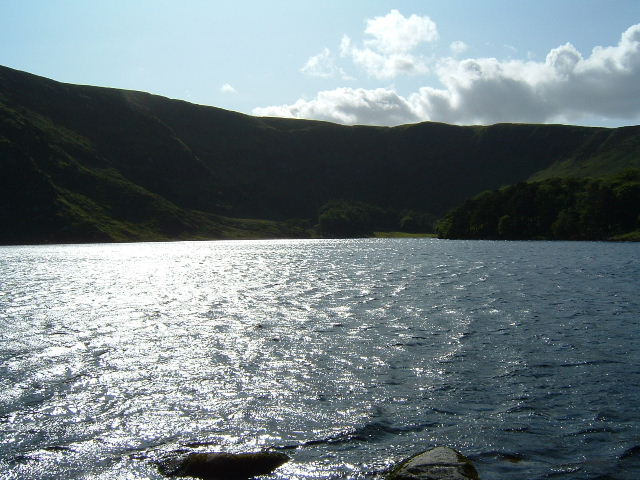 Lough Bray Lr, Co. Wicklow
One of the most important things to understand about flying in Ireland is the need for flight plans, and in particular the need to close them. You will require a flight plan for any flight that departs from an airport in controlled airspace, is going to an airport in controlled airspace, or if you intend to transit through controlled airspace at any point in the flight. You also need one if going more than 30 miles from land, and for a flight into or out of the Shannon FIR. These flight plans must be submitted at least one hour before departure. Expect for ATC to insist on the full hour. AIS in Shannon is your friend here. You can fax them your flight plan on +353-61-471965, or they will helpfully take it over the phone on +353-61-703750. If you have an Afpex account you can use this too, with the advantage that your flight plan will be in the system immeditely and you won't have to wait for Shannon to enter it for you.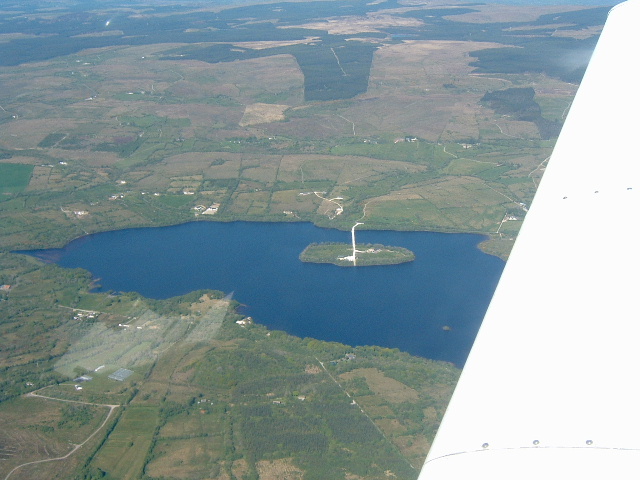 Lough MacNean
If you depart from a controlled airfield then the flight plan will be automatically opened for you. If you are departing from a non controlled airfield, then you will need to open it with either Shannon or Dublin ATC. Now unlike the UK, you MUST close flight plans in Ireland. If you land at a controlled airfield then the flight plan will be automatically closed. If you land at an airfield with an AFIS (like many of the regional airports are downgraded to during certain times of the day), then they may be helpful and close it for you, but check it as it is your responsibility! If you land at an uncontrolled airfield, then either close the flight plan with Shannon or Dublin ATC over the radio before landing, or after landing call Shannon on the number above and ask for "Low Level" and they will close it for you. Failure to close the flight plan will not make you very popular! Don't ignore this responsibility.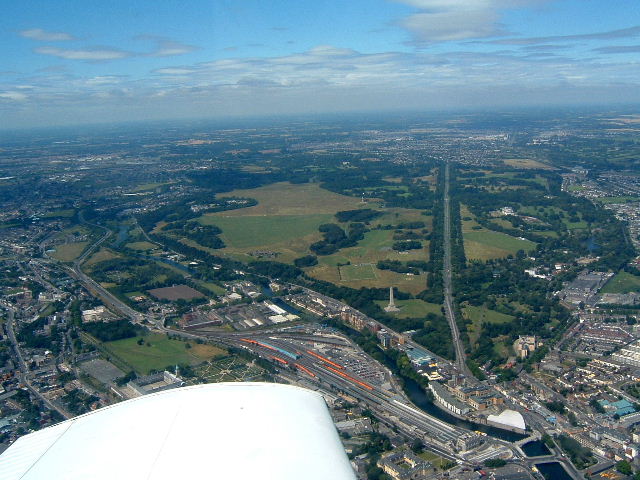 Pheonix Park-Dublin is the largest walled city park in Europe, Its home to the President of Ireland, the Ambassador
of the USA and Dublin Zoo. Watch out for the prohibited area!
If you intend to enter controlled airspace within Ireland, then your aircraft must be equipped with a mode C transponder. Mode S is not a requirement for VFR traffic in Ireland and there are no plans to make it so.
Another thing that is a little different to the UK is the air traffic control services. In the UK, outside controlled airspace a VFR flight can get a basic service or a traffic service. In Ireland we only have a flight information service. When operating under the Dublin CTA contact Dublin FIS 118.500mhz if available or if no response Dublin North 192.175mhz or Dublin South 124.650mhz. Elsewhere, below FL75, you can contact Shannon Info on 127.5mhz.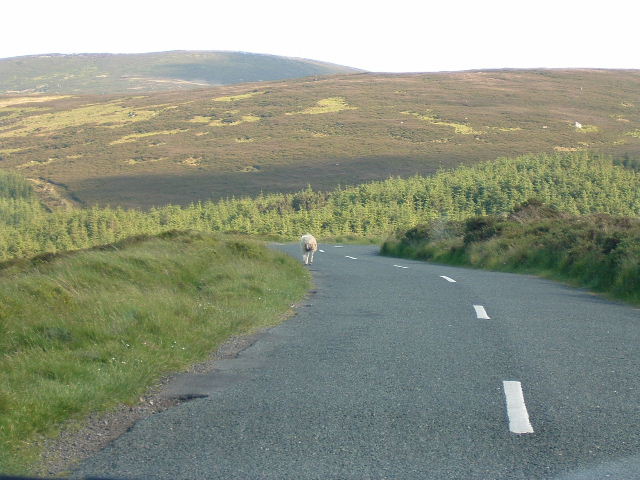 Well...I had to put sheep in somewhere! If you visit the countryside, then you're bound to see plenty of them roaming around!
Notams and Weather information, can be got from the usual sources that you use while at home. I would suggest the AIS UK website for Notams. If you do not have access to the internet while over here, then your airfield will be able to get them faxed from an air traffic service unit. If you are really stuck, AIS in Shannon will give you a notam brief over the phone on the number above. You have a huge choice of sources of weather information, however if you need to, you can get a personal briefing from the excellent Met Eireann premium rate phone number 1570-234234. You will get to talk to a forecaster, who will give you a personal briefing. Be aware though that the cost will be in the region of €2 per minute, depending on your network. Again PocketFMS can help you significantly here with METARs, TAFs and 48-72 hour by hour weather forecast data from Top Meteo who are professional aviation forecasters all included in your subscription or free 30 day trial. It's even got rainfall radar which can be very useful given our climate.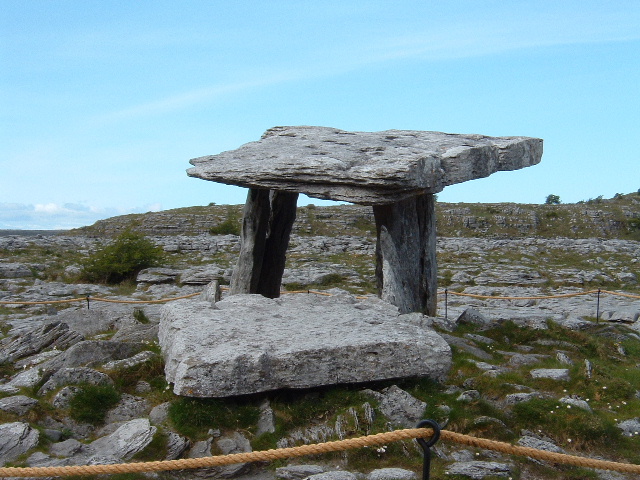 The 5,000 year old Dolmon-Co Clare is an unusual sight, and surprisingly not over run with tourists
A couple of other things you should know. Unfortunately your IMC rating is not valid within Ireland. It is either a full instrument rating or nothing. All airports in Ireland are PPR. Some are happy with PPR by radio but do not count on it. It is not unusual for airports to be out of avgas, and in particular the regional airports. Check the notams, as this information is often to be found there, and then check with the airfield to be sure. There is no VFR at night in Ireland, and no IFR without an instrument rating. This limits night flight for those without an instrument rating, to Special VFR within a control zone.
Another beautiful view of the Blessington Lakes. Thanks to Peter Holy for kind permission to reproduce this photo.
The Irish AIP is available from both the IAA and Eurocontrol websites. The Eurocontrol website is here http://www.ead.eurocontrol.int You'll need to look at PAMS light to see the AIP data. The IAA website is much easier to get the AIP from and can be found here http://www.iaa.ie/safe_reg/default.asp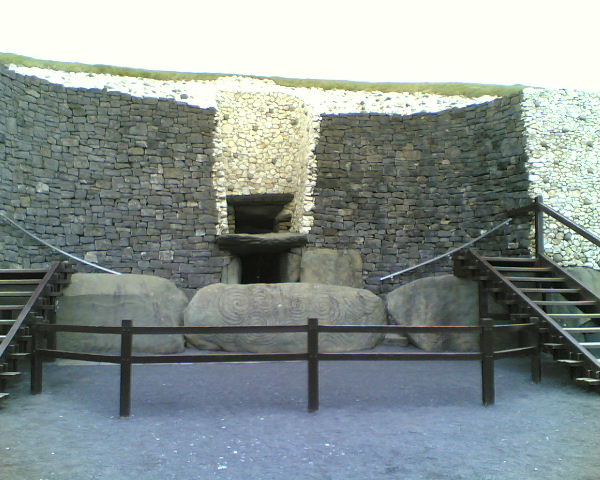 Newgrange, at 5000 years old, is older than the pyrmaids in Egypt
A common first destination for people is Weston. For cross water arrivals through the Dublin zone, you can expect to be routed to the KLY NDB. From there, expect to be sent to the "Pigeon House Chimneys". These are two tall chimneys painted with red and white stripes, just where the River Liffey flows into Dublin Bay. From here you will be routed directly to Weston. Helpfully the River Liffey largely runs in a straight line to Weston, so if you follow this you won't go too far wrong. Weston has a new VOR on the field which you can use too. At the "Palmerstown Roundabout" sometimes called the "Toll Bridge" by ATC, you will likely get handed on to Weston. The "Palmerstown Roundabout" is identifiable as where the M50 motorway crosses the N4 dual carriageway with a big roundabout, right beside a large bridge crossing the River Liffey. An alternative route often given is from the KLY NDB following the M50 motorway to the "Palmerstown Roundabout" mentioned above. The route along the river Liffey is probably easier if you are not familiar with the city, and gives you a good view of the city. Request it if you want it! My top tip here, is to print off the VFR Approach chart for Dublin from the AIP on the IAA website. It will make finding your way across the city much easier!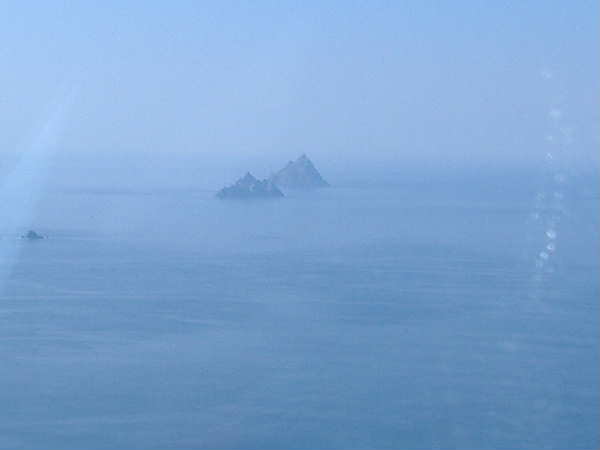 The Skelligs
Finally, I am setting out some info on some of our airfields. This is by no means an exhaustive list, just something to get you started! So order that chart, plan a trip and get over here! Flying here is easy, and great fun! I hope you enjoy your trip!
A Selection of Irish Airfields
Aran Islands
The Aran Islands are a group of small islands off the west coast. The three principle islands have hard surface runways varying in length from 520m to 546m. Inishmor is the largest of the three islands and well worth a visit. The main village is Kilronan and is about 40 minutes walk from the airport, or €5 in a taxi. Both the Bay View Restaurant and The Pier House in Kilronan serve a lovely lunch at a reasonable price! If you are intending on staying over night on a weekend during the summer, then make sure to book accommodation first, as it can get booked out, especially if the weather is nice! Landing fee is €10 and PPR is required from Aer Arann Islands with a minimum of three hours notice. For further details see the Aer Arann Islands SOP page here.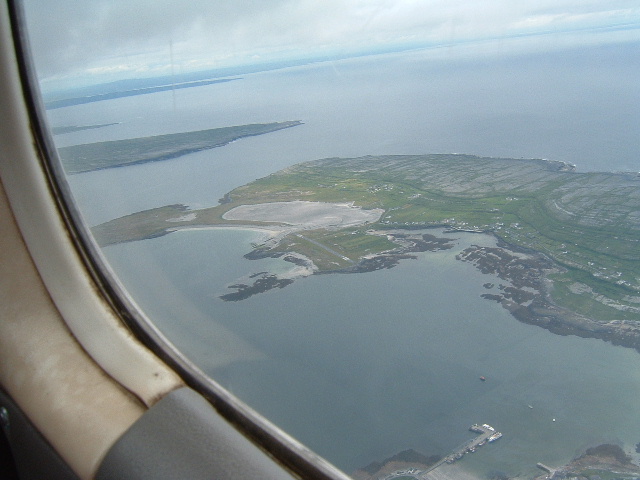 Inishmore airstrip
Birr
Birr is a little town near the middle of the country. It has a grass runway of 585m. The airfield is located in class G airspace, and has an air to ground service. The nearby Birr Castle and Demesne is a popular destination with tourists. There is no landing fee.
http://www.ormandflyingclub.ie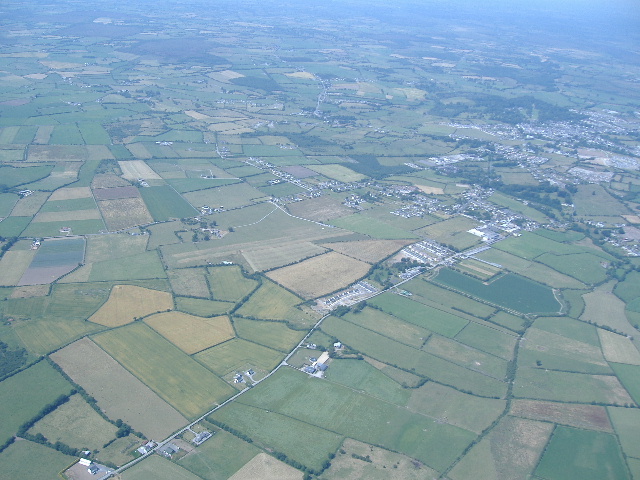 Birr airfield
Donegal
Located in the north west corner of Ireland, Donegal is surrounded by some of the most beautiful and rugged landscape in Ireland. Donegal is a regional airport enclosed in a class C CTR. It is not very busy, and ATC are very friendly, so don't let the class C put you off! If you are planning on leaving the airport, then you will need a hire car to get around. Ring the Enterprise Rent a Car desk at the airport directly for the best deals, rather than the central reservation number. The airport has a hard runway of 1,158m. Landing fees are €12 for an SEP.
You can listen to the Donegal ATIS by calling +353 (74) 9548921.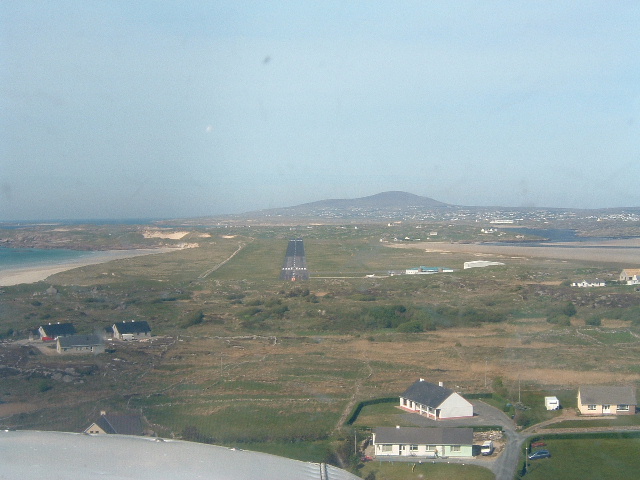 Donegal Airport
Kilkenny
Kilkenny is located towards the south of the midlands. The airport is a very friendly uncontrolled grass field with 930m available. There is a significant down slope on runway 27. It makes an excellent location for exploring Kilkenny city, which is a popular retreat for those wishing to get out of Dublin city for the weekend. Kilkenny Castle, which can trace its origins back to 1172, is well worth a visit. Its gardens make a nice relaxing spot on a summer's day. If you arrive in Kilkenny during one of its many festivals, such as the Cat Laughs Comedy Festival (held early June) you may have difficulty finding accommodation. Try to include a night or two on a weekend in Kilkenny on your trip. You won't regret it. There are no landing fees, but donations to the upkeep of the airfield are gratefully appreciated. See their website here.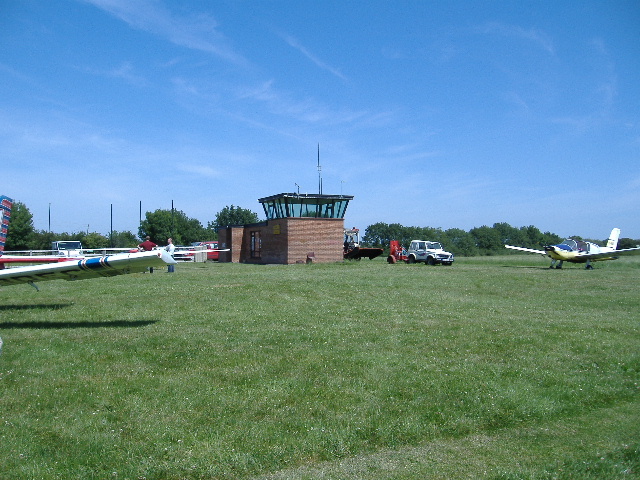 Kilkenny airfield
Letterkenny
This airport, along with Newcastle (see later) are probably the two friendliest airports that you will come across in Ireland. They have a 550m hard runway and a 575m grass runway. The hard runway is quite narrow. It's located on the edge of Letterkenny town close to hotels, bars and restaurants and makes an ideal overnight say. There are no landing fees and when I visited plenty of free tea and cake! A lift into the town was no problem either. This place comes highly recommended. Charmmaine Hughes will make you feel very welcome.
Newcastle
Along with Letterkenny, Newcastle is probably the friendliest airport that you will come across in Ireland. It's also handy that it's right on the east coast, meaning that you can easily get in in case of poor weather inland. It has a 690m grass runway, running north/south along the coast line. There are no landing fees, and John Nugent will make you feel very welcome. You should visit on your way in or way out of Ireland. See their website here.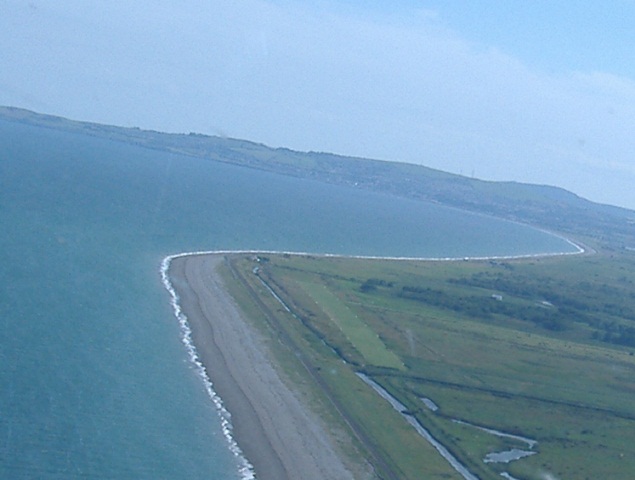 Newcastle Airport
Sligo
Sligo airport is located in Strandhill, which is about 6 miles west of Sligo. Sligo airport has 1,199m of hard runway available, with a beautiful approach over the sea. It is only a short stroll into Strandhill, and a lovely lunch can be had at either The Venue, or The Strand Bar. Sligo, which is closely associated with the poet WB Yates, is well worth a visit. Landing fees for an SEP are €15.
You can listen to the Sligo ATIS by calling +353 (71) 9168712.
Waterford
Waterford is a very pleasant regional airport located in the 'sunny south east'. It has a hard runway of 1,433m. It is enclosed in class C airspace, but this is often downgraded to class G with an AFIS during certain times of the day. Check the notams, and the ATIS for latest information. It is located in a beautiful part of the countryside. A taxi into Waterford city costs about €25. If you plan to stay a couple of days, and explore the region a little further than just Waterford city, then you will need a hire car, which are available at the airport. Landing fees are €15 for an SEP less than 1.3 tonnes and €30 for an SEP between 1.3 and 2.4 tonnes.
You can listen to the Waterford ATIS by calling +353 (51) 877000.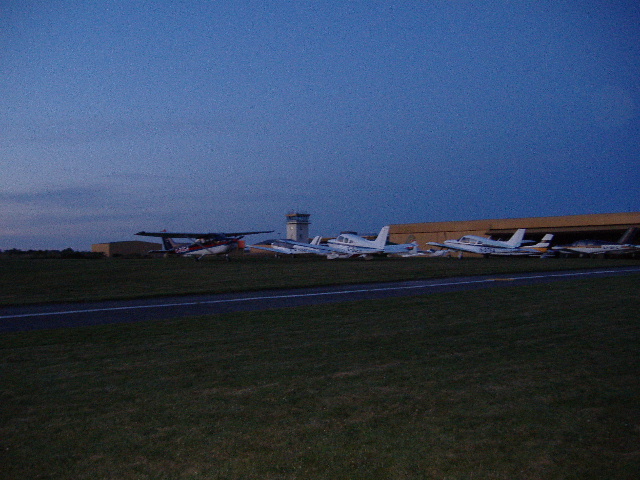 Waterford Airport
Weston
Weston is the airport for GA in Dublin. If you want to go in to Dublin city, then this is the airport that you want. Located about 9 miles to the west of Dublin city centre, it has a 924m, hard surface runway. A nice little café is available on site. A taxi into the city centre will take between 40 and 70 minutes depending on the time of the day and cost approximately €40. Alternatively there is a bus service that runs regularly close to the entrance, which costs €2.40. You can look up the timetables here. It's route number 67 and the the stop closest to the airport is stop is number 3944. Remember that Weston is now located in the extended Dublin CTR class C airspace. See the main article for details. Landing fees for aircraft less than 1.5 tonnes is €15. Parking fees are €15 per day.